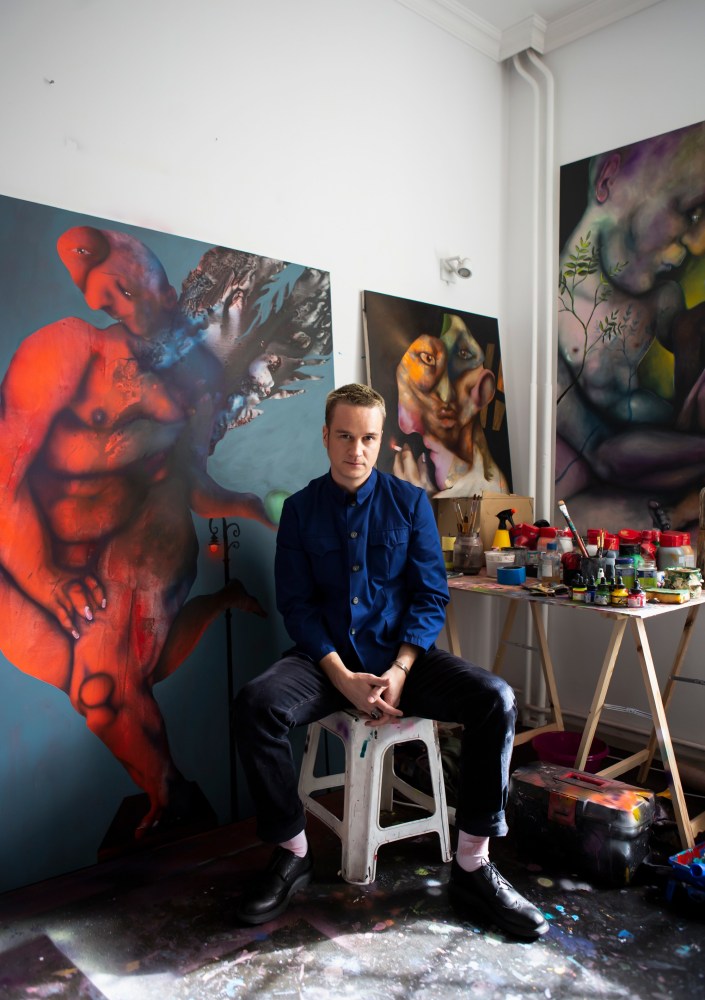 Born 1987, Warsaw, Poland
Lives and works in Warsaw, Poland
Szaweł Płóciennik graduated from the Faculty of Painting the Academy of Fine Arts, Warsaw (Diploma in Painting in Professor Jarosław Modzelewski's Study). Płociennik is a founder of the Chapel Open Experiment Study; participant of numerous exhibitions in Poland and abroad; author of essays and short stories published in the Polish press. He is a recipient of an Entry Initiative Award in 2019. His work has been subject of solo exhibtions including Eduardo Secci in Florence (2022), The Cabin, Los Angeles (2022), Promocyjna Gallery, Warsaw (2021), Trince City Gallery, Trince (2019), as well group shows including Green Family Art Foundation, Dallas (2023), Eve Leibe Gallery, London (2023), The Curators Room & Tesoro, Amsterdam (2023), Art Salon Contemporary, Budapest (2021) and Radost Gallery, Havirov (2016) among others.

Influenced by his origins and from the Polish culture, Szaweł is inspired by the mythology and fairy tales of his childhood memories, as well as when elaborating the titles of his works, always enigmatic, never explanatory. While the study of tradition acts as a sort of path-breaker prior to the development of the works, it is only as the elaboration of the works proceeds that the artist progressively realises and concretises the awareness and his specific intentions of the piece he is working on. Having completed the first preparatory sketch phase, often on very large canvases, Szaweł goes on instinctively, letting himself be carried away not only by his emotions but also by the result that he progressively obtains by painting and mixing different techniques. Asexual, immersed in poetry and myths, the subjects represented are the reincarnation of his desires, traumas, dreams and personal catastrophes, they are creatures that are born with more or less effort, and the context in which the artist is involved collaborates to create new landscapes and backgrounds.